TrainOurTroops, a 501(c)(3) veteran non-profit, enables your organization to train, certify, manage, and promote veteran employees with our advanced online education options that provide your organization with competitive advantages.
We allow your organization to streamline your veteran Diversity & Inclusion program to accomplish your organizational requirements and goals for stakeholders.
---
Our Diversity & Inclusion management capabilities provide your organization with:
Advanced Online Training Solutions for Veterans (in addition to any existing training programs your organization may have)

Quarterly & Yearly Training Progress Reports on Veterans

All Course Testing for Veterans

Subject Matter Expert (SME) Awards Based on Training Accomplishments & Milestones

Veteran Spousal Training & Certification (to provide stability to their family unit)

Veteran Onboarding and Engagement

Training Reports to Allow Leadership Accountability for Diversity and Inclusion Goals and Requirements

Work-Life Support for Veterans Transitioning to Civilian Careers or Existing Workforce Veterans
​​Our online reports track all veteran training and progress initiatives for your organization: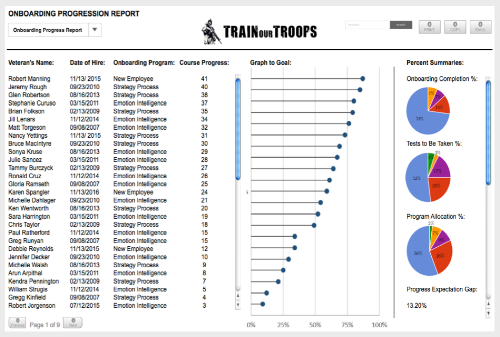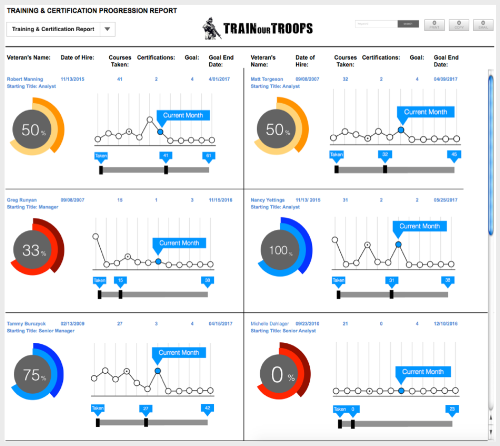 Additional standard reports: Shareholder & Stakeholder Report, Hiring & Goal Progression, Subject Matter Expert (SME) Accomplishments, Testing Progress Rate.
---
Your organization can select a grouping of our courses, or select an existing Subject Matter Expert (SME) roadmap to have your veteran employee's pursue. They'll leverage our courses and we'll manage their enrollment, course options by organizational role, and progression through their individual training goals. We then report their training progression to your organization to allow communication and transparency to your stakeholders to meet various strategic Diversity and Inclusion requirements. Our online curriculum allows self-paced learning, in addition to other training programs your organization may currently offer to veterans.
Our courses are created around these organizational disciplines: 
Customer Experience (CX) solutions

Customer Service (CS) solutions

Competitive Intelligence (CI) solutions

Strategic Thinking and Modeling (SX) solutions

Product Design and Launch Intelligence (PX) solutions

Win/Loss Analysis (WL) solutions

Emotional Intelligence and Thought Leadership (EX) solutions
---
At TrainOurTroops, veteran Diversity and Inclusion benefits the economic sustainability of your organization by helping you better understand and meet customer needs, as well as strengthening the workplace environment so that your employees can be more engaged and successful. Our solutions optimize how your organization can train, track, and progress your veteran workforce to gain competitive advantages and societal value.
Our commitment is to create an environment for your organization where military veteran employees feel valued, respected, and fully engaged to contribute to your organization's future success.
For additional information or a discussion on our Diversity and Inclusion program, please fill out the fields below and someone from our organization will schedule a discussion with you.