Would you like to support U.S. veterans, and their spouses, while at the same time advertising your business by creating a challenge coin with your logo on it combined with our coin tracking platform and quarterly reports?
---
TrainOurTroops will do a mockup of our uniquely numbered 3 inch heavy-duty challenge coins with your business or event logo on it for your buyers, event attendees, prospects, or patrons.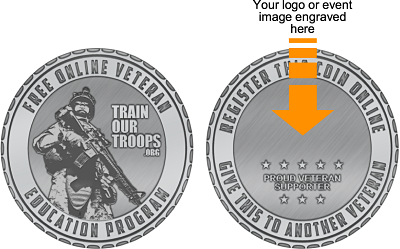 Coin recipients would then receive quarterly tracking reports on where your branded coins have traveled globally, keeping them interested and engaged with updates, and always remembering your business or event as they get those reports with your signage on them.
We have various joint marketing programs and event fundraising packages should you want to coordinate your exposure with our veteran charity. At the end of the day, you're supporting and promoting our veteran education programs, while at the same time generating a great story and marketing concept for your business.
---
Populate the fields below to obtain a mockup of your customize challenge coins.